Controversy Mapping - Citizen Equipment for Second-degree Objectivity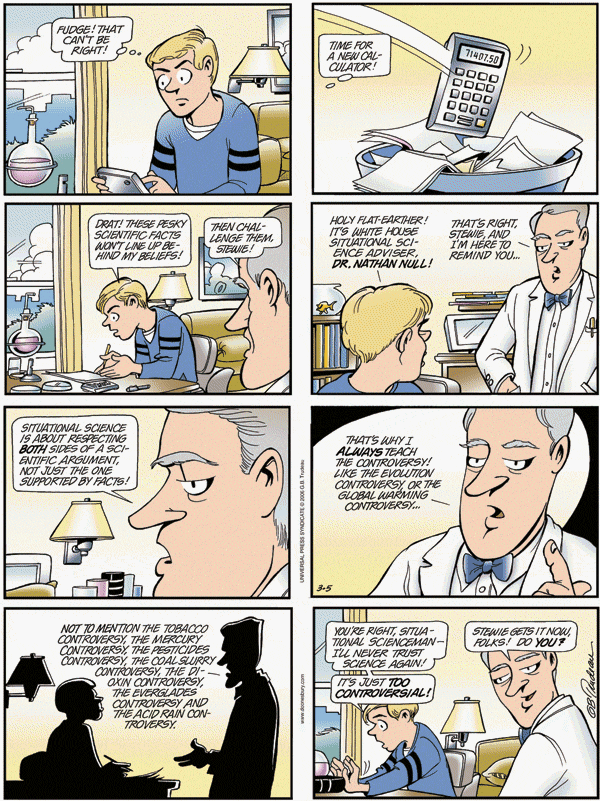 Figure one: Gary Trudeau, Doonsbury, 5 March 2006. Where is the controversy, and whose is it? Here we take up a particular approach to studying controversies that rests on locating its sources, and showing the sources' partisanship, or degree of commitment to the language of the controversy. The point is different from the cartoonist's, where the implication is that controversies may be sorted out on the basis of cold facts, in an approach that may be termed "first-degree objectivity." Rather, controversies may be shown to have its keepers, or pulsating points of light, that allow for the endurance of controversiality. Thus we move away from classic controversy mapping, which has striven to show 'sides' through displays of conflicting, substantive positions, e.g., a table with two columns of "pro" and "con" standpoints, or a discourse map, where actors are placed, with distance measures between them, according to each actor's affinity with a position (see Figure Two).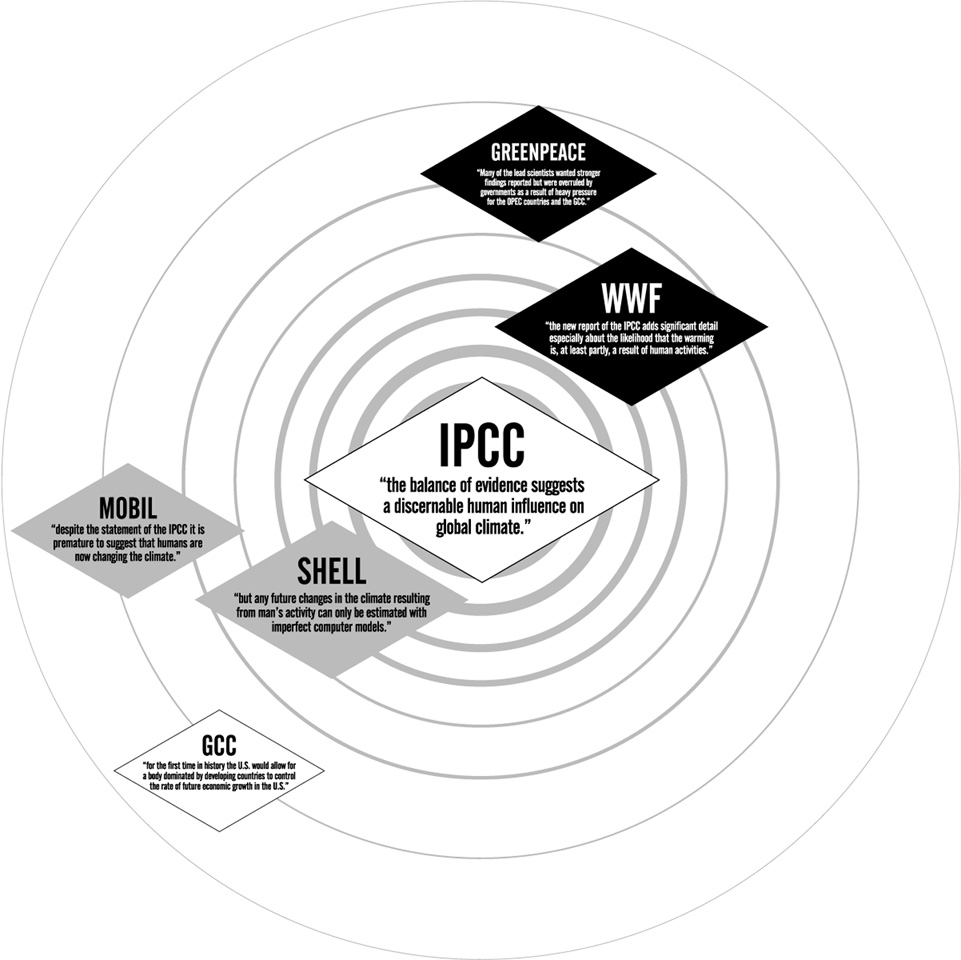 Figure Two: Discourse Map. Actors and their key phrases in context surrounding the IPCC finding that "the balance of evidence suggests a discernible human influence on global climate," Govcom.org, Amsterdam, 1998.
Controversy selection
Controversy mapping begins by identifying (or building) a tool that provides an indication of whether the subject matter is a controversy. In other words, the crucial selection of the controversy is based on a series of indicators as to a subject matter's "controversiality."
Controversy indication
The controversiality indication is made through entering the subject matter in a query machine. The machine provides a series of outputs whereby the user has a sense of the subject matter's composition, in terms of coverage. The first output comprises actor types, where one may note the presence and absence as well as the quantity and freshness of press, NGO, governmental, corporate as well as scientific attention. Here, for example, one may note how settled the issue is, for example through the presence of established parties, or their absence. The second output consists of the significant related key words to the subject matter in question. Of course, one may ask whether the word controversy or similar terms are present in the issue space. Additionally, here one builds the list of terms around which the controversy may revolve, e.g., programs and anti-programs.
Controversy and second-degree objectivity
"Mapping a controversy" could assume the form of showing issue language commitments by actors. That is, given particular key words around which the controversy is unfolding, and the programs and anti-programs being built, one would view which actors show commitment to a program through their language usage. Controversy and the company it keeps. Traditionally, in issue mapping, positions are placed side by side, which then invite the reader or citizen to make up her own mind. Here, actor sets are placed side by side, showing the collections of actors on particular "sides" (or in particular programs). The output concerns the company positions keep, that is, actor alignments, grouped not by financial, or other partnership ties, but by shared substantive commitments.
Organized information as equipment for citizen as well as issue professional. Finally, the "map" becomes the equipment for it forms the basis for a citizen's or issue professional's rationale for having a strong view. The view that is taken is in fact sociological, as opposed to epistemological, in the sense that it is based on relations between actors and issues, organized as "maps" (information graphics of a variety of types), which become presentation aids.
Equipped citizens as powerpoint users. According to Tufte presentation software "disrupts, dominates and trivializes content," making the study of presentation formats (as opposed to merely content) crucial. As the dominant professional presentation format, the powerpoint presentation (or varieties thereof) is to be loaded with designed graphics, with which the story of the controversy and the citizen's (sociologically informed) view may be told.
Lippmannian Device: Showing Partisanship
The
Lippmannian device
(after Walter Lippmann and his Public Opinion book) is a tool that provides a coarse means of showing actor partisanship. Which actors appear sympathetic to a particular position? Building on a Google scraper, the tool may be used to gauge the resonance of an issue among actors, or particular actors within an issue area. In other words, it may be used after a set of actors in an issue area have been delineated (by Google or by a researcher-editor,
building a source set
), revealing the substantive friendliness of actors to one another.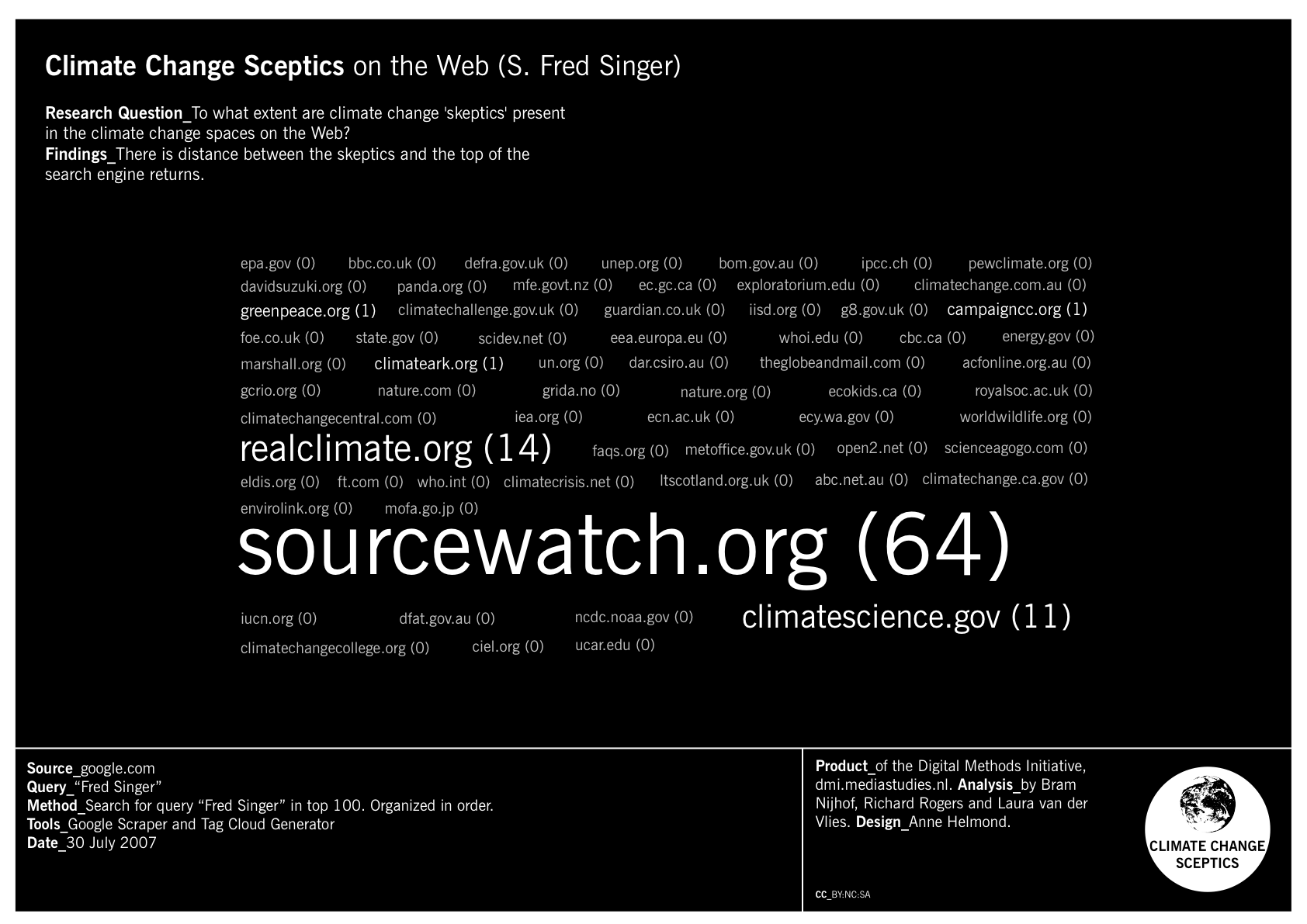 The tag, or source, cloud displays which significant sources on the Web (results of a "climate change" query in Google) mention a climate change skeptic and which not (after each source is subsequently queried, respectively, for a skeptic's name). Mentions, or the lack thereof, may serve as an indicator of partisanship (realclimate.org; climatescience.gov). However, the results do not show whether or not the sources mentioning the skeptic align themselves with his position, qualitatively, as is the case with sourcewatch.org. Sources may be watchdogs. Thus the Lippmannian Device shows source partisanship and/or issue commitment.